The advantage of our travel agency based in Ajaccio and specialist of the Corsican destination is to give you useful and updated information you are looking for and also our good advice or tips to go to Corsica by plane, or by boat, and to stay with or without your car and learn about local customs!
Travel to Corsica ...
We can advise you and book your flight to Corsica depending on the elements of your trip. You have the choice of arriving at 4 airports from many French cities but also European (often in tourist season). The duration of the flight depends on the connections but it ranges between 1h and 3h, which allows Corsica to be reached fairly quickly from Europe.
👍🏻 Good advice: The sooner you book your flights to Corsica, the better the rates!
The 2 airports of Corse du Sud:
FLIGHTS TO AJACCIO (daily flights departing from Marseille - Nice - Lyon - Paris-Toulouse)
FLIGHTS TO FIGARI (daily lines departing from Marseille - Nice - Lyon - Paris)
The 2 airports in Haute-Corse:
FLIGHTS TO BASTIA (daily lines departing from Marseille - Nice - Lyon - Paris-Toulouse)
FLIGHTS TO CALVI (daily flights departing from Marseille - Nice - Paris)
BOOK your flights to Corsica with us : resa@misscarrington.com
Airlines companies:
Air Corsica or Air France
Easyjet.com (seasonal routes connecting Ajaccio or Bastia from Lyon and Paris, and from the UK: London and Manchester)
Volotea (seasonal routes from Beauvais-Rouen, Bordeaux, Brest, Caen, Lille, Montpellier, Nantes, Strasbourg, Toulouse)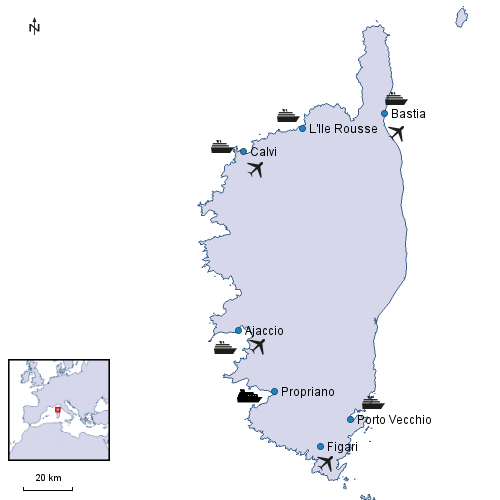 Corsica is connected by sea to the French mainland and to the Italian mainland. There are night and day crossings. According to your travels before and after crossing, we advise you to select during the night crossings a cabin rather than an armchair!
👍🏻 Good tips: Book as early as possible to benefit from cheaper ferry prices and the choice of facilities. Reductions on certain crossings (weekdays)
The Ferry Ports of Corsica:
AJACCIO
BASTIA
PORTO VECCHIO
PROPRIANO
CALVI
L'ILE ROUSSE
👍🏻 BOOK with us your ferry crossings to Corsica: resa@misscarrington.com
Shipping companies:
Corsica Ferries (from Nice-Toulon-Livorno (Italy))
Corsica Linea (from Marseille)
BY CAR OR ... BY MOTORCYCLE!
We recommend that you have a car to facilitate your trips on the island and we advise you to love driving!
You have to expect many turns, narrow roads, some four lanes, no highways! But the trips allow you to stop for a reward of superb landscapes and unique panoramic !
We can book you a car rental upon your arrival on the island!
Identity documents and currency
For any travel in Corsica (France), you must be provided with an identity card or a passport valid on the dates of your trip.
The official currency in Corsica is in Euro. The possibilities of payment by credit card are not always possible ( in some restaurants, the beach huts...) We recommend you to have always some cash and small change. You will find bank machines in the main cities and a few exceptions in the villages!
👍🏻 Good advice: Plan for cash and small change (parking beaches or tourist sites, straw huts ...)
Schedule stores / post / banks / local markets
In general, bank and post offices are open from 9:00 to 12:00 and 14:00 to 16:00 from Monday to Friday (except holidays 2017). Cash machines are available 24 hours a day.
Shops generally open from 10 am to 12 pm and from 2 pm to 3 pm until 7 pm (closed on Sundays and sometimes on Mondays). During the summer season, shopping evenings are organized (in Ajaccio).
Local and producer markets take place in the morning during the summer season until around 12:30. In Ajaccio, the market takes place every day of the year on the Place Foch.
👍🏻 Good advice: Take advantage of the sales during the summer season which starts around mid-July in Corsica!
In your luggage!
Casual or dressed clothes (for the evening!) And clothes pleasing to wear by Her or Him !: tee shirts, shorts, bermudas, linen trousers, dresses, waistcoats, swimsuit, quasi-obligatory bath shorts! To be envisaged in case of "blues" weather: a windbreaker, a light jacket, a fine fleece (in April / May and from September).
Side shoes, according to where we go! Flip-flops, sandals, comfortable and dressy shoes (select!), Tennis and sneakers (for small hikes!)
Do not forget the essential accessories: the hat, the sunglasses, your towel of bath and the sunscreen that it is to walk or go to the beach!
Mosquito repellent and we advise you to carry an insect repellent for quiet nights!
Correct dress is of course required in restaurants, cafes, shops, cultural sites (museums, churches ...)
Your travel safety in Corsica
According to what you have heard from the media, we assure you that you are safe on the island! It is nevertheless necessary to maintain a good behavior that it is in the relations with the people but also a good careful driving on the roads!
There are not particularly flights, but it is appropriate as elsewhere not to be totally distracted during your holidays and to be vigilant! ; Here are some of our instructions:
❗️ it is strongly recommended not to leave valuables in your car.
❗️ avoid having large sums of money with you and prefer cash withdrawals when necessary.
Beaches and bathing
The Mediterranean offers water that is often calm, but caution must always be exercised because of certain currents and beware of beaches with quiet appearances, some are dangerous and one regrets unfortunately drownings every year. Never leave children unattended!
Privilege supervised beaches.
EnregistrerEnregistrer