If you want to go to Sardinia, it is better to start thinking about it during your winter days, and we give you on this page useful and practical information for your future trip in this Italian region and our recommendations 👍🏻 concerning the possibilities of crossings by boat or flights to the island.
How to go to Sardinia?
The main airports of Sardinia are 3, and fairly well served. Attention flights are not every day! And certain lines are seasonal:
OLBIA
CAGLIARI
ALGHERO
Airlines companies:
EASYJET to Cagliari from Paris Orly, Nice, Basel, Geneva (Switzerland), Milan (Italy)
EASYJET (to Olbia) from Toulouse, Paris Orly, Paris CDG, Lyon, Nice
EASYJET to Cagliari from London Stansted
EASY JET to Olbia from Manchester, Bristol, London Luton, London Heathrow, Amsterdam, Hamburg, Venice, Naples, Milan
RYANAIR to Cagliari from Paris Beauvais
VOLOTEA to Olbia: From Nantes, Bordeaux and Strasbourg; Of Italian cities Turin, Verona, Venice, Palermo, Naples, Bari
VOLOTEA to Cagliari: from Nantes, Toulouse from the cities of Italy: Turin, Genoa, Verona, Venice, Ancona, Palermo, Naples, Catania
VOLOTEA to Alghero: departing from Italian cities Genoa, Verona, Venice
MERIDIANA
ALLITALIA
AIRBERLIN
AIRBALTIC
NORWEGIAN
GERMANWINGS
VUELINGS
BRUSSELS AIRLINES
TRANSAVIA
SWISS
👍🏻 Good tips: You have to book very early flights to Sardinia, depending on how busy the rates can become exorbitant!

BOOK your flights to Sardinia with us: resa@misscarrington.com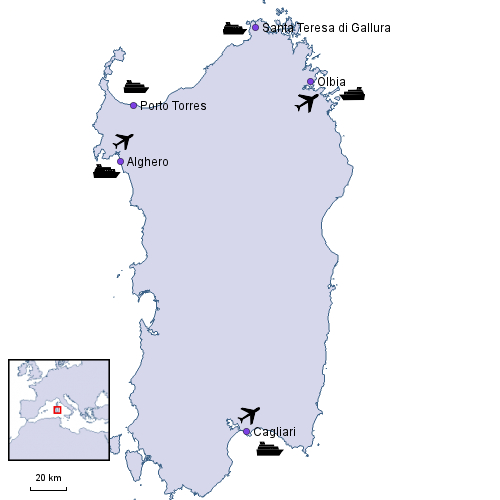 There are many options to arrive by boat in Sardinia but it is not easy to find information that will answer your questions (see our good advice!). There are changes of companies / new crossings / stops of crossings that can occur!
The ports of Sardinia:
SANTA TERESA DI GALLURA
PORTO-TORRES
OLBIA / GOLFO ARANCI
CAGLIARI
Crossing from the French mainland:
Sardinia is connected by sea with Toulon, Nice(on the French Riviera). These are mostly night crossings (installation of cabins, boarding cars or motorbikes possible!)
Be careful, the connections are not daily for each port of departure!
From Corsica:
The two islands Corsica Sardinia are quite close, daily and annual connections are possible. The crossing takes about 45 minutes from Bonifacio to Santa Teresa.
There is also an Ajaccio-Porto-Torres link but ATTENTION, the crossings are sporadic!
From Italy:
Sardinia is connected with the Italian mainland from Genoa, Livorno, Civitavecchia and Palermo.
👍🏻 Good tips: Book as early as possible to benefit from Sardinia's cheaper ferry prices and the choice of facilities especially in the high season! Reservations with the companies can be a real headache and a waste of time, we recommend you to contact us in relation to your stay, because the organization of your trip is conditioned by the possibilities of crossing back and forth!
BOOK your ferry crossings to Sardinia with us : resa@misscarrington.com
Shipping companies:
Corsica Ferries (from Nice-Toulon-Ajaccio and the Italian port of Livorno)
La Tirennia (from the Italian ports of Genoa, Palermo)
Grimaldi
BY CAR OR ... WITHOUT CAR!
On an island, according to your desires and your schedule of time the car is always advisable, it allows you to discover places that would be harder or rarely reachable by public transport.
The roads in Sardinia are quite straight with four lanes which facilitate the movements on the island towards the main cities from north to south. Nevertheless, there are winding roads in the hinterland.
We can book for you a car rental.
Identity documents and currency
Since Sardinia is a region of Italy, as citizens of the European Community you must have a valid identity card or passport on the dates of your trip. For nationals of Canada, the passport is sufficient (visa not necessary).
The official currency in Sardinia is Euro (conversion). The possibilities of payment by credit card are generally and widely accepted in restaurants and shops ... We recommend you to provide cash and small currency for your expenses to artisans .... You will find bank distributors in the Main towns and some villages!
Schedule stores / post / banks / local markets
Post offices are open from 8:30 am to 9:00 pm to 1:00 pm / 1:30 pm Monday to Friday (except holidays 2017).
In large cities, post offices have wider schedules often from 8:30 am to 6:30 pm.
Banks usually open from 8:30 am to 1:30 pm and from 3 pm to 4 pm from Monday to Friday. Some can open on Saturday morning.
Shops in Sardinia usually open from 9 am to 1 pm and from 4 pm or 5 pm until 7 pm / 7.30 pm (closing on Sundays and sometimes half a day on weekdays depending on the store!).
Some villages or cities offer local markets and producers that take place in the morning. The market days differ from the towns and according to the seasons.
In your luggage!
Casual or dressed clothes (for the evening!) And clothes pleasing to wear by Her or Him !: tee shirts, shorts, bermudas, linen trousers, vests, dresses, swimsuit, quasi-obligatory bath shorts! In case of bad weather: a windbreaker, a light jacket, a fine fleece (in April / May and from September)
Side shoes according to the places frequented: flip-flops, sandals, comfortable shoes and dressed (select!), Tennis and sneakers (for small hikes or walks!)
Adopt a respectful behaviour according to certain places such as restaurants, cafes, shops, and during your cultural visits (museums, churches ...)
The essential accessories: the hat, the sunglasses, your beach towel and sunscreen are highly recommended for walks or the beach!
Mosquito repellent and we advise you to carry an insect repellent for quiet nights!
Your travel safety in Sardinia
There are few thefts, however we advise not to be completely distracted during your holidays and to be vigilant, especially in the cities or crowded places! ; Some instructions:
❗️ it is strongly recommended not to leave valuables in your car.
❗️ avoid having big sums of money with you and prefer cash withdrawals when necessary.
❗️ ensure your handbag / wallet
On the roads, be vigilant and respect the speed limits!(50 km/h in town/villages or sometimes 30 km/h ) 90 km/h on the main roads or less : check the road signs! )